Custom Videos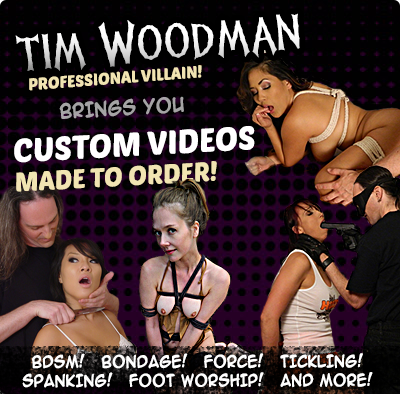 I am available to do Custom Video work! This is where you get to pick the model, dictate the action, and produce your very own 30 minute fetish video! All you need to do is read this page, follow a few simple directions, and voila! Your tailor-made fantasy comes to life! Each model charges a slightly different rate, but for a 30 minute video here are the BASIC prices you can expect:
Model $1300
Model's Agent $100
Male Talent (Me) $700
Location $500
Camera Crew $500
Wardrobe / Props (if needed) $???
Editing $100
TOTAL $3200
LEGAL CRAP: This stuff is FANTASY. I do NOT do anything to any model which is actually non-consensual. I do not endorse forcing people into sexual activity against their will. I DO actively endorse and recommend PLAYING out the FANTASY with a willing partner, or hiring me to!
STEP 1 – Pick a Model.
You can request any model you want, but there are some factors to take in:
1 – The more famous she is, the more expensive her rates.
2 – Does she do fetish work? Not all of them do…
3 – Is she even still working?
I am registered with most of the major adult talent agencies. If the model in question is "Self booking" meaning works without an agent, I can save you the $100 and book her directly… if she answers her email.
Don't have a particular model in mind? No problem. Tell me what you like/don't like in a model (hair color, size, build, tattoos, piercings, etc…) and I'll help you find the right one for your project.
STEP 2 – Choose your scenery.
The more lavish you get here, the more expensive, of course. I have easy access to bedrooms, offices, dungeon-looking rooms, garage sets, and QUIET outdoor action. Or, if you like, we can rent a hotel room. If you have something else in mind, just let me know and we'll see what we can find!
STEP 3 – Pick your Content.
I am well-versed in capturing models by: chloroform, gunpoint, knifepoint, drugged drink, blackmail, on-screen bondage, bonking over the head…
Once captured, I can put them in: rope-bondage, saran-wrap, duct tape, leather cuffs/restraints, straitjackets, handcuffs…
While restrained, I can subject them to: fondling, tickling, spanking, riding crops, floggers, single-tail whips, knife-play, hot wax, violet-wands, and of course all the sex stuff.
Be reminded, not all models do all level of fetish. The rougher, nastier and more violent you want it, the better I'll like it, but the less likely that she will do it…
STEP 4 – Special Requests.
Do you absolutely need her or me to be in a specific costume? Do you need her or me to have a particular prop? Fake a foreign accent? Shoot in black and white? It's your video! Make the request, but understand that the stranger or more difficult the request, the more it may cost.
I have access to an extensive wardrobe for models and for me, so most costumes and most props are usually free. Just ask, and if I have it, it's yours. Of course, if I have to go get one, or if it will be damaged/destroyed as part of your movie, you have to pay for it.
STEP 5 – Contact Me!
Send me an email, with the above information in it. I will send you an estimate for your project. If you approve, we will discuss a payment method that will work best for both of us.
My email address is: Tim "at" provillain "dot" com – If I link it for you, I get spammed. You type it yourself; I have faith in your abilities!
When I receive payment in full, I will book the next available date when the model, location, camera and I can make it happen. I will let you know the date, and keep you informed if a model postpones or anything else happens.
What you get:
You will receive the first copy of the finished project, including any out-takes and behind-scenes footage. I'll upload all files via WeTransfer and email you a download link.
What I get:
I keep ALL rights to the material. You may NOT post, for sale or for free, anything, anywhere. I may choose to offer parts or the whole video for sale in my various clipsales theaters at my discretion. Oh, and of course, I get to be in it, doing the evil stuff to the victim! Mwahahahaaaaaaaaaaaa!
Still here?
Let's get started! Send me an email!